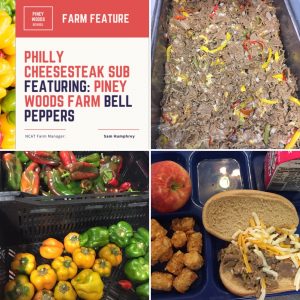 NCAT's Gulf States demonstration farm has been producing a bumper crop of different varieties of peppers this summer, and on September 7, the students of The Piney Woods School got to enjoy some for lunch in their cafeteria.
This all came together because of the work of FoodCorps alumna, Sara Hazelnis, who has been hired as the new Food Service Director at The Piney Woods School. She's collaborating with NCAT's demonstration farm manager Sam Humphrey and with FoodCorps service members to get more local, and in this case ultra-local, produce into the cafeteria.
What's up next on the menu?  Sam says he'll have more bell peppers ready for Sara soon, as well as jalapenos and habaneros.  As the summer growing season winds down, Sam says he'll be able to get one more crop of tomatoes for the students before he transitions to fall crops.  He's already got the starts growing for a variety of greens, beets, broccoli, cauliflower, carrots, and radishes, and these should be appearing sometime in October for the students of The Piney Woods School to enjoy!