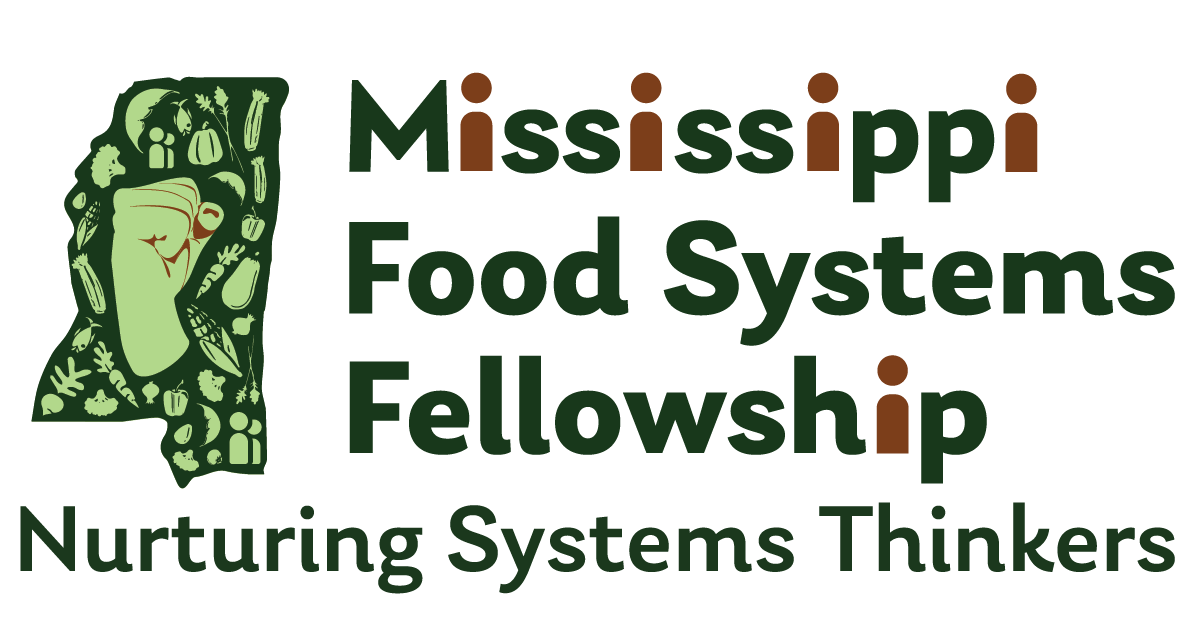 The Mississippi Food Systems Fellowship will invest in Mississippians working to build a more healthy, sustainable, and equitable food system.
Mississippi is the poorest state in the nation. With its legacies of racial injustices, the most vulnerable Mississippians continue to be impacted by vicious cycles of poverty, economic insecurity, mass incarceration, ill health, food insecurities, and unsafe environments. The policies and governance across the systems in the state continue to perpetuate this culture rooted in white supremacy and racial inequity. These systemic challenges are huge barriers to transforming Mississippi's food systems and improving health, economic, cultural, policy and environmental outcomes of vulnerable communities. As such, we are investing in nurturing systems thinkers who have the capacity to become ethical leaders that transform Mississippi's food systems. This is our ultimate hope for the Mississippi Food Systems Fellowship.
The Mississippi Food Systems Fellowship will invest in Mississippians working to build a more healthy, sustainable, and equitable food system.
We are seeking a cohort of Mississippians from Indigenous, Black, Latinx, Asian American, and other minority communities, who are working at the intersections of Food, Health, Agriculture, Labor, Economic Democracy, Environment and Community-Centered Development and Production. Fellows must be committed to living and working in one of the following regions of Mississippi:
Mississippi Gulf Coast
Jackson, Mississippi
Mississippi Delta
Mississippi Choctaw Reservation
These regions were selected based on where we have existing relationships, and where community partners have expressed a desire for more strategic collaboration and capacity-building support to build upon existing food systems work.
Through nurturing these cohorts of food systems leaders, we determine to build community power that informs and supports food system transformation.
As a Mississippi Food Systems Fellow, you will have the opportunity to:
grow your souls and wisdom as intergenerational leaders
build relationships with other leaders committed to transforming Mississippi Food Systems
grow a collective food systems vision and scope of work with your community
engage in a food systems learning series uniquely designed for fellows
enhance your skill-set by learning and practicing Systems Leadership, Community Organizing, Story Shifting, Cultural Work, Economic Development, Advocacy and Policy
receive $500 to support your community project idea
receive a $1000 stipend after successful completion of the fellowship
Expectations
Our hope is that Fellows will get the most out of this amazing opportunity to learn, connect, and grow. The following are expectations for all fellows who commit to the Mississippi Food Systems Fellowship:
Commit and fully engage in the one-year fellowship (January-December 2020)

We anticipate four in-person meetings, each lasting 2-3 days, plus ongoing group communication and assignments in between each of these meetings.

Be curious about exploring Mississippi food systems
Be open to meeting and growing with people
Embrace accountability towards yourself and the fellowship process
Be curious and welcoming of the values and principles of the fellowship process
Harness your genius to impact your community through a project idea
The 2020 MS Food Systems Fellowship application is now closed.

If you have any questions regarding the fellowship opportunity or have resources that you would like to offer in support of our efforts, please reach out to us.

If you would like to stay in the loop about future updates or opportunities, you can sign up for our email list.